Students Compete in Regulatory Science Innovation Contest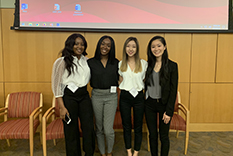 Four University of Maryland School of Pharmacy Doctoral (Pharm.D.) candidates earned first place in the 8th annual University of Maryland Center for Excellence in Regulatory Science and Innovation's (M-CERSI) "America's Got Regulatory Science Talent" Competition. The group presented a plan for a mobile application ("MeDevice"), which will improve consumer accessibility to information about medical devices.
The first-place Team Brain Alliance – comprised of Adaeze Amaefule, Breanna Owoo, Hannah Kim, and Sydney Yuen – noted that the U.S. Food and Drug Administration (FDA) has several online tools to access information on medical devices, ranging from recalls to premarket approvals to registering a device. However, no user-friendly tool that synthesizes all of this information is available to the public.
The team stated three goals for the device's impact on users: (1) to enhance and promote understanding of medical devices use (2) to foster patient awareness and safety through an all-inclusive tool and (3) to impact patients on a macro-level with ease of use, accessibility, and streamlined features.
Brain Alliance was among nine teams participating in the March 10, 2020 competition. The annual event aims to promote student interest in regulatory science – the science of developing new tools, standards and approaches to assess the safety, efficacy, quality and performance of FDA-regulated products. Participants presented their research to two FDA judges in Pharmacy Hall at the University of Maryland, Baltimore.
Judge Alemayehu (Alex) Akalu, Pharm.D., shared: "I had the best experience attending this year's America's Got Regulatory Science Talent as a judge and as a first-timer. All nine teams showed great enthusiasm and dedication. Most of the teams incorporated current technologies to enhance the healthcare system and alleviate some of the big issues it faces. I hope to see these brilliant ideas/concepts will evolve into tangible projects and reach their intended destinations."
Two groups of Pharm.D. students also tied for second place – Team Just (insul)in-case and Team RidRx.
Team Just (insul)in-case (Karen Nguyen, Hanna Lefebo, Amanda Dinh, Anthonia Azubike, Andrew SyBing, and Jeffrey Banaszak) proposed the implementation of a portable drug manufacturing system ("Biologics On-Demand") to be used in emergencies. The group suggested combining existing FDA policies to expedite the manufacturing of inaccessible drugs, using insulin as a prototype to develop a regulatory framework. They also visited researchers at UMBC working on this technology to see how biologics can be made in mere hours, using limited resources.
Team RidRx (Anyen Fon, Hang Vo, Chidiogo Eke, and Olamide Olujohungbe) discussed the public health hazards of improper disposal of medication - including the potential for identity theft, children and pet poisoning, drug abuse, and environmental risks. The group proposed streamlining information about properly disposing medication into a mobile application called "RidRx." The program would include details about drop-off locations for excess medication, as well as alternative options for medication disposal. Furthermore, Team RidRx proposed that the FDA work with pharmaceutical companies to include information about the application in the package insert and prescription bag label that patients pick up at the pharmacy.
"The intent of the event is to have students be creative in thinking about a problem that they identify, and propose a solution to that problem," said James Polli, Ph.D., University of Maryland, Baltimore Department of Pharmaceutical Sciences Professor and M-CERSI co-principal investigator. "I am always struck by how good their ideas are. I enjoyed the diversity of the nature of the proposed solutions, and I learned a lot. For students, I think it helps expand their universe of thinking of what they can do."
University of Maryland, College Park students also traveled to Baltimore to participate in the competition.
Sophomores Anindita Mullick (Biology: Cell Biology and Genetics) and Linette Kingston (Biological Sciences) worked together as Team Smokeless Together. The pair proposed improving the FDA's current anti-smoking campaign "Every Try Counts" to reach minority communities through relevant multicultural media. Their ideas included implementing targeted messaging in more languages, and partnering with medical centers, religious institutions, and underserved community centers.
Robert E. Fischell Institute for Biomedical Devices researcher and biological sciences graduate student Caitlyn Singam, (B.S. '19) titled her presentation "Engineering Unleashed."
Singam spoke about medication errors and the beneficial role that autonomous reporting of these errors can play. Even more, she noted that machines could counteract human error by monitoring for sudden changes in patient status, comparing patient-specific prediction of future status versus actual status, and flagging incidents with corresponding computerized physician order entries (CPOE).
More on Singam's research was recently published in the Winter 2020 edition of Terp magazine.
Published February 12, 2020