M-CERSI Celebrates 10th Annual Regulatory Science Competition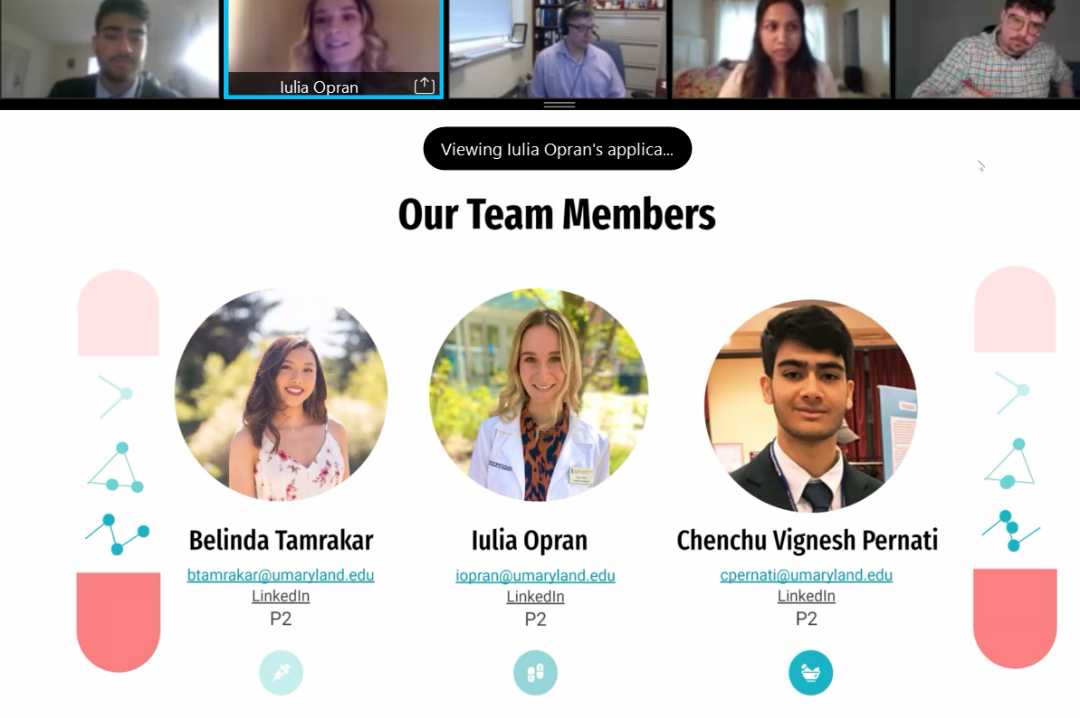 Every winter, the University of Maryland Center of Excellence in Regulatory Science and Innovation (M-CERSI) invites students from both the University of Maryland, Baltimore and University of Maryland, College Park to take part in the "America's Got Regulatory Science Talent" competition. The competition aims to promote student interest in the science of developing new tools, standards, and approaches to assess the safety, efficacy, quality, and performance of FDA-regulated products. M-CERSI held its 10th annual competition on Friday, Feb. 4. Additional information – including links to the event recordings and slides – can be found online via the FDA website.
"This is my favorite activity," exclaimed M-CERSI co-principal investigator James Polli, University of Maryland School of Pharmacy (UMSOP) Ralph F. Shangraw/Noxell Endowed Chair in Industrial Pharmacy and Pharmaceutics. "I have been very pleased with the teams over the past several weeks. I'm happy to say that the teams – while passionate about their ideas – have always thought of evidence for and against their ideas."
This year, three UMSOP teams presented their projects virtually to three U.S. Food and Drug Administration (FDA) judges.
Students Iulia Opran, Chenchu Vignesh Pernati, and Belinda Tamrakar of team AcetaSAFE presented their idea to develop a QR code for over-the-counter (OTC) acetaminophen and prescription medications. The team's aim is to improve patient knowledge of acetaminophen dosing. The group found that patients often lack clear understanding of their appropriate acetaminophen dosing for different health needs, which can put consumers at risk of an overdose. When acetaminophen is taken in excess, it can cause long-term effects on the liver, the group said. Given this, the team believes that a QR code will help improve patient education, raise awareness of OTC and prescription drug toxicity, and decrease hospitalization costs. The AcetaSAFE team was awarded first place for their presentation, which the judges described as interactive and transformative. View AcetaSAFE's presentation slides online.
Students Joanna Shaju, Rebecca Faulkner, Sumbel Malik, Ivan Jay Bauzon, and Sabrina Wang of team Keeping Blood Glucose SweetNLow presented their idea for optimizing continuous glucose monitoring (CGM) devices by incorporating patient-centered outcomes (PCO) as research prompts for diabetes patients. There is currently no one-size-fits-all solution for diabetes patients. Recognizing this, the team proposes a standard interface via which a patient could monitor subjective data – including symptoms, daily activity, and/or health complications. The platform would also offer prompts that would appear when a patient's glucose levels are outside their target range. In this way, Team Keeping Blood Glucose SweetNLow aims to make diabetes care more personalized and easier for patients to manage. Team SweetNLow was awarded second place for their idea, which the judges noted to be interesting and innovative. View Keeping Blood Glucose SweetNLow's presentation slides online.
Lastly, Travel Rx, led by students Sean Mujin Kim, Alex Livingston, and Karen Nguyen, presented a concept for an application platform that would allow users to find appropriate over-the-counter medications in foreign countries. The project aims to address common obstacles global travelers might encounter when purchasing medicine, such as language barriers, challenges with locating or understanding drug information, and/or challenges with locating a pharmacy. View Travel Rx's presentation slides online.
The two award-winning teams will have the opportunity to present their innovative ideas to the FDA's Office of the Chief Scientist.
View Dr. Bentley's introduction slides from the FDA visit
This event is supported by the Food and Drug Administration (FDA) of the U.S. Department of Health and Human Services (HHS) as part of a financial assistance award U01FD005946 totaling $1,000 with 100 percent funded by FDA/HHS. The contents are those of the author(s) and do not necessarily represent the official views of, nor an endorsement, by FDA/HHS, or the U.S. Government.
View the FDA website for more information about this event
Published February 17, 2022