Ninth Annual M-CERSI Regulatory Science Competition Goes Virtual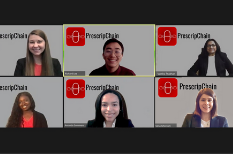 Each winter, the University of Maryland Center for Regulatory Science and Innovation (M-CERSI) hosts the "America's Got Regulatory Science Talent" competition. This competition aims to promote student interest in regulatory science - the science of developing new tools, standards, and approaches to assess the safety, efficacy, quality, and performance of FDA-regulated products.
"This event is an academic highlight for me," says James Polli, Ph.D., University of Maryland, Baltimore Department of Pharmaceutical Sciences Professor and M-CERSI co-principal investigator. "Although students participate by their own choice, they place a great deal of effort into identifying a problem in regulatory science and a proposed solution. Each team often goes through several iterations of problems and potential solutions, until finally they arrive at something that they think merits doing. It stretches them. But, they are satisfied with their ideas."
This year, students from the Baltimore and College Park campuses of the University of Maryland presented their innovation ideas to three FDA judges virtually. Nine teams competed in this ninth annual competition on Friday, January 15, 2021.
Team PrescripChain - a group of second-year student pharmacists and an MS in regulatory science student from the University of Maryland School of Pharmacy (UMSOP), including graduate students Delaney McGuirt, Sona Ghorashi, Richard Lee, Amie Lette, Varsha Pradhan, and Amanda Summers ,was awarded first place in the 2021 competition.
The team presented its idea for "PrescripChain," a user-friendly mobile application for adverse event reporting that utilizes blockchain technology to provide automatic, bench-to-bedside tracing of the entirety of a drug's lifespan. It proposed this new app as an easy-to-use alternative to similar ones like MedWatch, noting that of 1,600,000 prescription-related adverse events reported in 2020, only 3.8% of those events were reported voluntarily using MedWatch. "PrescripChain" would use blockchain technology to securely track and display adverse event data clearly in real-time.
Team FFC - UMSOP students Minseok Han, Lauren Correia, Nathan Feeley, Yididya Hambissa - was awarded second place for its innovative idea "Braille-iant," which would improve visually impaired persons' accessibility to prescription information. "Braille-iant" would provide auxiliary prescription labels with clear Braille overlay. This project idea was inspired by an American Foundation for the Blind survey. Team FFC aims to bring increased autonomy, accessibility, and medication safety for visually impaired people.
Team ePROmetric - University of Maryland, College Park A. James Clark School of Engineering undergraduate students Vaani Shah and Yash Mehta - won third place. The team presented its idea for "ePROmetric," a wearable, tech-enabled patient health monitoring mobile application. The patient interface could easily relay data to providers, for example, efficient vitals and symptoms collection and predictive analytics for personalization.
These three teams will have the opportunity to present their innovation ideas to the FDA's Office of the Chief Scientist.
"Participating in the regulatory science talent competition as both mentor and judge has been an energizing and exciting experience for me," shared Roberta Glass, M.D. "The students' enthusiasm and inspiring motivation have been infectious. All of the teams' presentations demonstrated a depth of understanding of regulatory science applied to a unique and creative way to solve a real world problem. This is an amazing group of students, all of whom offer great promise for the future."
More information about competitors' projects including event recordings are available online.
This event is supported by the Food and Drug Administration (FDA) of the U.S. Department of Health and Human Services (HHS) as part of a financial assistance award U01FD005946 totaling $1,000 with 100 percent funded by FDA/HHS. The contents are those of the author(s) and do not necessarily represent the official views of, nor an endorsement, by FDA/HHS, or the U.S. Government.
Published January 19, 2021