FDA Awards $5 Million to Pediatric Device Consortium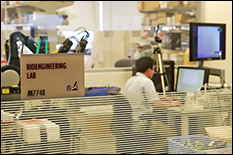 To foster development, production and marketing of the next generation of medical devices designed to meet growing children's unique needs, the Food and Drug Administration (FDA) awarded $5 million to the National Capital Consortium for Pediatric Device Innovation (NCC-PDI), led by Children's National Health System and the University of Maryland, College Park. New Consortium members include BioHealth Innovation, Inc., a Maryland-based innovation intermediary that supports the transformation of research projects into new business opportunities, and MedTech Innovator, a California-based virtual startup accelerator that matches health care industry leaders with early-stage and emerging growth medtech companies for mentorship and support. NCC-PDI's affiliated members include industry leaders such as Smithwise, Epidarex, and Cadence.
The Consortium's multi-disciplinary principal investigator team includes: Kolaleh Eskandanian, Ph.D., MBA, PMP, project lead, and Anthony Sandler, M.D., from Children's National; and William E. Bentley, Ph.D., from the Robert E. Fischell Institute for Biomedical Devices at the University of Maryland.
"The key to ensuring the next generation of adults are healthy is to ensure children enjoy the best health," says Eskandanian, vice president and chief innovation officer at Children's National and the lead principal investigator of NCC-PDI. "That means underwriting and marketing life-saving devices like stents and heart valves, designed with children's growing bodies in mind, and shepherding such innovations through the challenging path to regulatory approval."
Medical devices designed for people who are younger than 22 travel a slower path to market and there are fewer pediatric medical devices compared with devices used by adults. Adding to the complexity of device development, pediatric devices must be sized appropriately as children transform from newborns to toddlers to adolescents and young adults.
"While exciting advances are being made in medical technologies for adults, crucial pediatric innovations often languish in areas like asthma, heart disease, and neonatal health," said Paul Grand, CEO of MedTech Innovator. "We are excited to bring the resources of our global accelerator to identify and advance best-in-class pediatric technologies, to ensure they reach the market and improve the health of the millions of children who need them most."
NCC-PDI – like other nonprofit consortia funded by the FDA in Houston, Los Angeles, Philadelphia and San Francisco – encourages innovative pediatric devices by providing business, regulatory, legal, scientific, engineering and clinical expertise to strengthen pediatric device applications submitted to the FDA. Under a five-year grant renewed by the FDA's Office of Orphan Products Development, NCC-PDI will:
Encourage innovation and connect qualified individuals with pediatric device ideas with potential manufacturers
Mentor and manage pediatric device projects though the development process
Connect innovators and physicians to existing federal and non-federal resources
Assess the scientific and medical merit of proposed pediatric device projects
Assist and advise on business development, personnel training, prototype development, post market needs and related activities and
Provide regulatory consultation to device sponsors to support submission of pediatric device applications.
"Partnership, shared knowledge and collaboration are vital to our overall progress. This month's grant renewal makes all that possible," Eskandanian adds. "Because of our ongoing collaborations with federal regulators, academic centers, pediatric leaders, device manufacturers and potential investors, Children's National is uniquely positioned to draw together diverse stakeholders who share our goal of strengthening pediatric device innovation."
In fulfilling its mission, NCC-PDI annually hosts the "Make Your Medical Device Pitch for Kids!" competition in an effort to award funds and device development technical support to those innovations that address a significant unmet need for children and are deemed to be commercially viable. To date, NCC-PDI has awarded $1.43 million to 31 startups and research labs and supported over 80 pediatric medical devices.
"Many of the health challenges that impact pediatric populations require unique resources, treatment, and expertise," Bentley said. "NCC-PDI is a vital partnership in that it fosters innovation and knowledge-sharing between inventors, researchers, clinicians, and policymakers, all for the betterment of children's health. The Fischell Institute is proud to support NCC-PDI's mission by utilizing our resources, facilities, and expertise to help usher pediatric medical devices to market from the earliest stages of ideation through navigating the regulatory process."
Legislation passed by Congress in 2007 established the funding to be distributed as grants for nonprofit consortia to help stimulate projects to promote the development and availability of pediatric medical devices. This legislation was re-authorized as part of the FDA Safety and Innovation Act of 2012 and again in the FDA Reauthorization Act of 2017 to run through fiscal year 2022.
Published October 12, 2018