Young Investigator Fellowship Supports "Third Lung" Research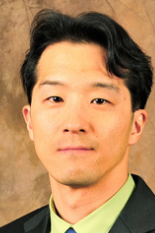 Department of Mechanical Engineering Associate Professor Jin-Oh Hahn and Department of Surgery Professor Joseph S. Friedberg, M.D. were recently selected as recipients of a Fischell Institute Young Investigator Fellowship. Hahn is principal investigator of the Laboratory for Control and Information Systems, which aims to advance health monitoring and maintenance methodologies applicable to a wide range of dynamic systems by exploiting control and systems theory, with priority emphasis on bio-systems, health and medicine, as well as mechanical systems and structures.
The Robert E. Fischell Institute for Biomedical Devices launched the first Fischell Institute Young Investigator Fellowship Program this spring. The purpose of this program is to foster collaborations amongst successful teams including Fischell Institute faculty on the University of Maryland's Baltimore and College Park campuses. The funds enable high impact, translational and/or exploratory research in medical devices.
This project's objective is to develop the "Third Lung," a transformative technology for extra-pulmonary respiration.The concept was invented by Friedberg, who is collaborating with Hosam Fathy (ENME/MEII), Jin-Oh Hahn, and Miao Yu (ENME/ISR/Robotics). Fellowship funding will support two young investigators: Hyun-Tae Kim and Joshua Leibowitz (UMSOM). Kim will focus on PFC gas concentration sensor development while Leibowitz focuses on optimizing the Third Lung technology.
The team was formed to respond to the COVID-19 crisis by developing a novel lung-independent respiratory assist technology, inspired by the observation that COVID-19 patients appear particularly prone to ventilator-induced lung injury (VILI). Patients with potentially reversible lung failure from infection, lung collapse, or fluid buildup often die before their lungs have the chance to recover. Mechanical ventilation is required when a patient can no longer meet respiratory demands with spontaneous breathing - yet the trauma of mechanical ventilation itself can compound the underlying lung injury. Regardless of the mechanisms of respiratory insufficiency, death will occur when a patient exceeds the support provided by a ventilator, unless there is supplemental extrapulmonary gas exchange.
Until now, extracorporeal membrane oxygenation (ECMO) was the only extrapulmonary gas exchange technique available. ECMO is a scarce and expensive resource which circulates a patient's blood through a hollow fiber device for oxygenation. EMCO requires central vascular access, anticoagulation, and direct blood-device interface to function, so it may not be an option for many patients, even when it is available.
"Consequently, there is a desperate need for additional lung-independent gas exchange devices," explains Hahn. "To the best of our knowledge, the Third Lung technology is one of the very first attempts to establish and demonstrate the potential of peritoneal perfluorocarbon (PFC) circulation to supplement gas exchange in the lungs." PFC is a dense, colorless, nontoxic, and inert fluorine-based liquid equipped with extraordinary gas dissolving properties.
"The basic idea is to exploit the extraordinary gas dissolving properties to foster oxygenation and carbon dioxide clearance through the peritoneal membrane," Hahn continues. "Importantly, the Third Lung may be appropriate for a much larger population of patients; not only would the Third Lung have a potential role as an alternative to ECMO for patients at the limits of mechanical ventilatory support, but it also has potential to emerge as the only extrapulmonary gas exchange technique that could be employed for earlier stages of lung failure to prevent VILI."
The team plans to test a few hypotheses regarding the physiological mechanisms responsible for the gas exchange elicited by peritoneal circulation of PFC. Researchers are developing novel liquid gas concentration sensors applicable to both oxygen and carbon dioxide. They plan to garner insights on optimizing the efficacy of the Third Lung technology by conducting large animal experiments and analyzing the experimental results.
The project will continue to develop and optimize the Third Lung system by fulfilling the following specific aims: (i) conducting experiments and data analytics to derive the relationship between the efficacy of oxygen supply and carbon dioxide removal versus Third Lung settings and external variables (e.g., body temperature); and (ii) developing a novel technology for gas concentration sensing in PFC.
"The Robert E. Fischell Institute for Biomedical Devices' Young Investigator Fellowship will provide significant momentum to the Third Lung team by expediting the team's efforts to develop PFC gas concentration sensors as well as optimizing the Third Lung technology," explains Hahn.
"The Third Lung has the potential to save the lives of countless patients with reversible respiratory failure and could emerge as a standard of care tool in the treatment of this enormous patient population," says Hahn. "The ultimate goal of this project is to form a Maryland-based company that will produce this life-saving device."
Published July 23, 2021