Jay Awarded $300K FDA Grant to Support Extracellular Vesicle Research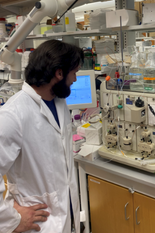 Fischell Department of Bioengineering (BIOE) Associate Professor Steven Jay was awarded a $300,000 U.S. Food and Drug Administration grant administered by the University of Maryland Center of Excellence in Regulatory Science and Innovation (M-CERSI) to support work towards applying additive manufacturing for the continuous production of extracellular vesicle products.
Jay is collaborating with Fischell Institute Director and BIOE professor William Bentley, with whom he serves as a co-advisor to BIOE Ph.D. student Nick Pirolli.
As the principal investigator for the Biotherapeutic Development and Delivery Lab, Jay is interested in the versatile therapeutic potential of extracellular vesicles. EVs, which include exosomes and other subtypes, are cell-derived structures that function like biological nanoparticles, transporting proteins, nucleic acids, and lipids between cells. But, a limitation is the lack of a large-scale manufacturing approach and challenges related to quality control and characterization. Through this project, Jay, Bentley, Pirolli, and their collaborators aim to tackle some of these hurdles.
"I am excited for the rare opportunity to blend cutting-edge extracellular vesicles therapeutics with advanced biomanufacturing techniques such as 3D printing and microfluidics," Pirolli said.
Bentley's lab specializes in synthetic biology and is interested in connecting biology to electronics to facilitate "programming" of biological function. Pirolli stated that working with both Jay and Bentley has allowed him to integrate extracellular vesicles research with synthetic biology concepts to augment extracellular vesicles therapeutic activity. "By working in the two [labs], I have been able to learn and apply a broad range of knowledge and skills to further stimulate my passion for therapeutic development," Pirolli said.
Jay and Bentley hope this project can lead to better approaches to producing a highly pure population of extracellular vesicles at a large scale, thus enabling more rapid translation and the development of crucial regulatory criteria. They hope to apply for future support from the National Institutes of Health (NIH), the National Science Foundation (NSF), and other sources to continue this work.
Published January 5, 2023