Machine Learning's Translational Medicine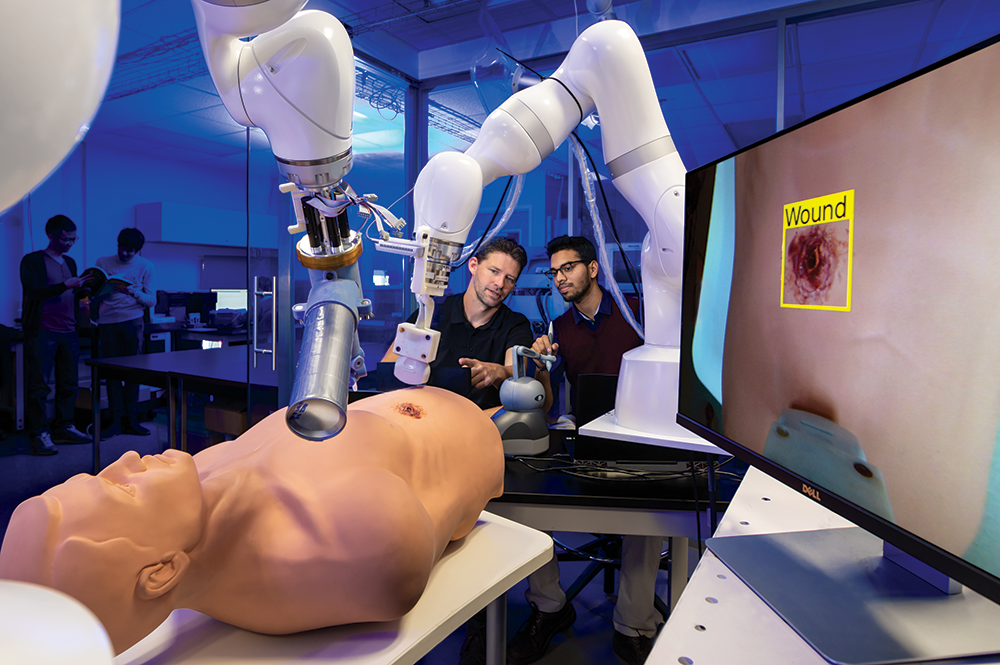 At the moment of traumatic injury, no physician is present. Emergency medical technicians respond first—they stabilize the patient during ambulance transport, while specialized trauma teams prepare to receive the patient at a hospital.
That is, if the patient makes it there.
"The ride to the hospital is the riskiest part for the trauma patient," says Axel Krieger, assistant professor of mechanical engineering, who specializes in medical robotics and computer vision. Krieger says that estimates suggest one-third of trauma fatalities likely would have survived if they had access to hospital-level of care sooner. He aims to help make that level of care standard on the ambulance ride—a long way from his undergraduate days in Germany, where he studied automotive engineering.
To improve the health-giving capacity for trauma patients during the ambulance ride, Krieger wants to equip the ambulance with a medical robot enhanced by machine learning (ML). "One of the biggest dangers during the ambulance ride is undiagnosed, internal hemorrhagic bleeding," he says. "It's currently undetectable with methods available on the ambulance ride. You can't see it."
But a robot can.
"Imagine you have a patient in the emergency vehicle, and a robot scans the patient and obtains ultrasound images," says Krieger, who is a member of the Maryland Robotics Center. "This can provide a critical level of life-saving diagnosis and care not yet possible during an emergency ambulance ride."
The robot scans and visualizes the injury, then compares and analyzes the scans with its ML algorithm—which was trained using data from similar real-life patient images. It focuses on anatomic areas known to be especially vulnerable to hidden injury and bleeding—such as the pelvic area and space between the lungs, spleen, and liver—to determine severity of wounds based on location, depth, and interaction with vital anatomy; compute volume of blood loss; and assess hemorrhagic potential. Analyzing these characteristics en route would help produce an injury profile useful in triaging the patient so he or she can receive appropriate care as soon as possible—perhaps in the ambulance, and most certainly upon arrival at the hospital.
To develop this ML-based intelligent scanning robot, Krieger and several Clark School graduate students collaborated with trauma experts at the University of Maryland Medical Center's R Adams Cowley Shock Trauma Center.
The research is still experimental and not yet approved for clinical use with patients—but Krieger believes it will be soon.
"It's the translational aspect to patient care that really excites me," he says. "If we can help more people survive, this is the best use of our work."
Published April 9, 2019