Fisher Receives TERMIS-AM Senior Scientist Award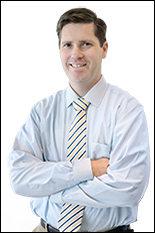 Fischell Department of Bioengineering (BIOE) Chair John Fisher was named the recipient of the 2017 Tissue Engineering and Regenerative Medicine – Americas (TERMIS-AM) Senior Scientist Award.
The award honors active contributors to the field whose body of work spans 10+ years and is well recognized by members of the tissue engineering and regenerative medicine community. Fisher formally received the award on Tuesday, Dec. 5, at the TERMIS-AM annual conference and exhibition in Charlotte, N.C.
"I am truly honored to receive the TERMIS-Americas Senior Scientist Award," Fisher said. "It is humbling to be chosen by esteemed colleagues and peers in the field, as they reflect the thoughts of those most informed by this work. I am amazed at how our efforts in biomaterials, bioreactors, and 3D printing have grown in impact over the years. And, I am moved by the support I have received – from academic mentors, our lab researchers, and from my family; their support has made all of this possible."
In addition to his role as chair, Fisher serves as Fischell Family Distinguished Professor and director of a newly established National Institutes of Health-funded Biomedical Technology Resource Center (BTRC) dedicated to advancing techniques to create complex tissues and parts for the body, such as for organs and bone. Funded in part by a $6.25 million NIH grant, the Center for Engineering Complex Tissues (CECT) aims to create a broad community focusing on 3D printing and bioprinting for regenerative medicine applications.
In his role as director of BIOE's Tissue Engineering and Biomaterials Laboratory, Fisher works with his research group to investigate biomaterials, stem cells, bioprinting and bioreactors for the regeneration of lost tissues, particularly bone, cartilage, and cardiovascular tissues. Most recently, Fisher's laboratory has worked on developing strategies for the 3D printing of a variety of tissue engineering biomaterials and scaffolds. Overall, the laboratory has published more than 140 articles, book chapters, and proceedings, and delivered over 285 invited and contributed presentations while utilizing $15 million in financial support from NIH, the National Science Foundation, the Food and Drug Administration, the National Institute of Standards and Technology, the U.S. Department of Defense, and others.
Fisher currently serves as Chair Elect of TERMIS-AM. His work and contributions to the field were recently highlighted in Baltimore's National Public Radio station's On the Record program.
Published December 1, 2017